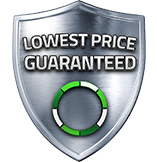 Projector lamps and bulbs are an expensive item for most customers.
We have the lowest prices in Canada for projector lamps made by ORIGINAL manufacturers and we guarantee it with the MyProjectorLamps lowest price promise.
If you find a lower price anywhere for the same product, we will beat or match the price.
We sell the highest quality projector lamps. They are manufactured by Philips, Osram or Ushio and therefore, we do not match prices for third-party projector bulbs. Third-party or imitation projector lamps will damage your projector permanently and are not recommended by MyProjectorLamps.
How Are Our Prices So Low?
We buy projector lamps and projector bulbs direct from the manufacturer, there is no middle man. We also purchase in massive quantities to make sure that we are receiving the best possible price. After that, we pass the savings onto you!
Lowest Prices and Fastest Shipping
In addition to going the extra mile to lower our prices, we store and warehouse all of our projector lamps in our regional offices around the world and ship them direct to you. You may be surprised to know that this business model is not as common as you might think. Make sure you are buying a projector lamp from the company that is shipping you the projector bulb you're purchasing. Several other companies drop-ship their items from warehouses outside Canada